I am writing this article in support of my Triathlon team Big Pistachio and our awesome coach, Erin Truslow. If you are training for any sort of endurance sport, Erin can get you across the finish line.
Welcome to the great indoors! So you have Zwift setup and you want to take your workout to the next level by joining some friends? Great! Let's go over the steps to ensure you do it in the right order.
First lets cover the of how you can make both a Zwift Meetup and Workout happen at the same time. Skip ahead if you have done some of these steps.
Allocate 20 minutes of setup and troubleshooting time before the ride starts. Seriously, do this well ahead of your event until you get the hang of it.
Download the Zwift Companion App. The Companion App is the easiest way to navigate through some of the elements of the Zwift environment. We are going to use the Companion App to join the Meetup: Android App iPhone App
Login to the Companion App and open the events screen. This is where you will see any meetups your friends (maybe Erin Truslow) have invited you to. You should accept your friends invites ahead of time if there is a chance you might make it. Do this by tapping the event request or via the events page. When you have the meetup screen in front of you tap –> "GOING". Doing this will ensure Zwift prompts you to join the meetup about 5 minutes before it starts.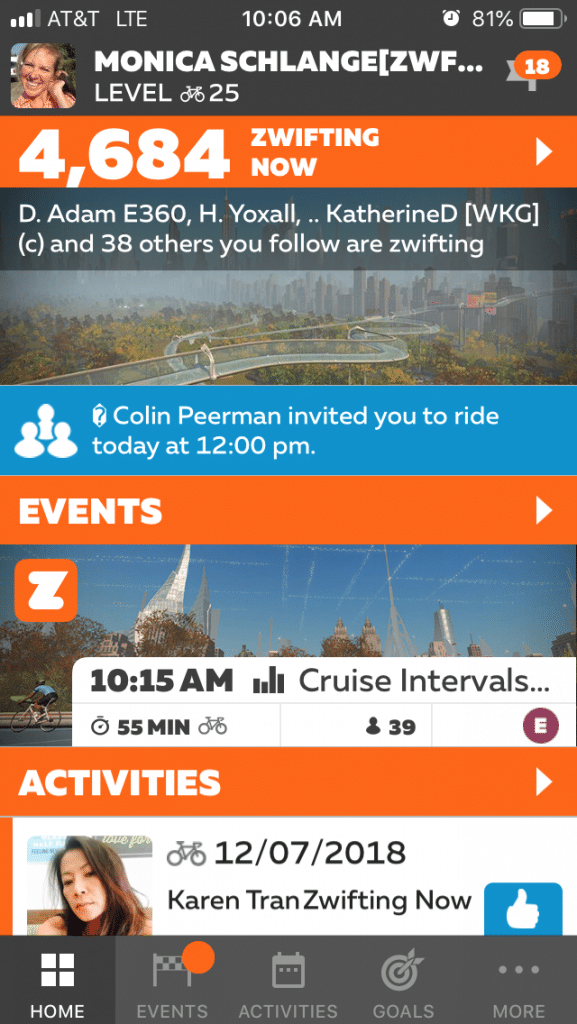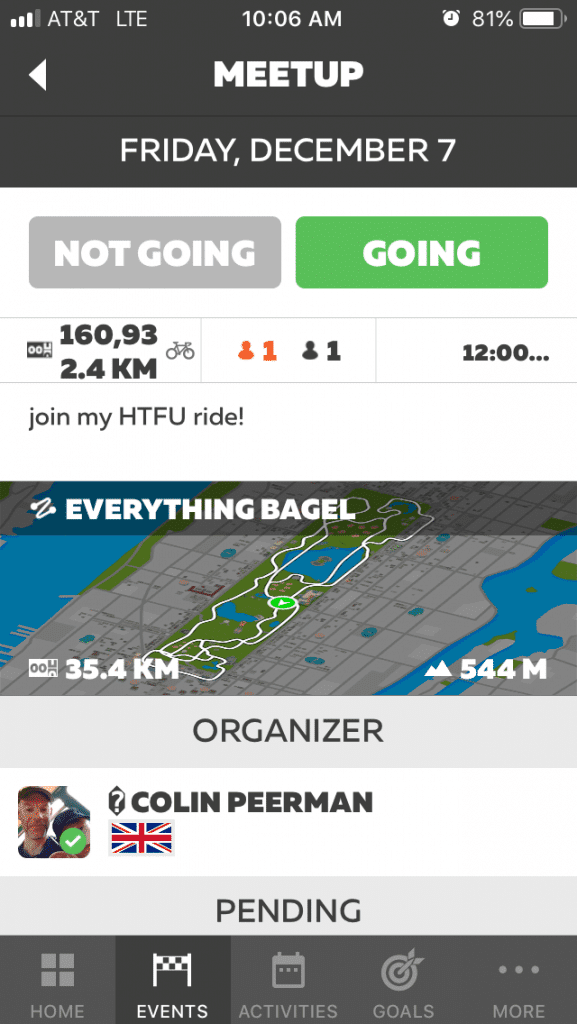 Great you have accepted the meetup! If it is almost time for your meetup, get on your bike and get logged into Zwift.
If you haven't paid attention until now, please pay full attention. If you cannot afford to pay attention, please ask your friends to help you. 😀
You will join the Meetup BEFORE you select your workout for the day. That's right; the order of operations here is: wait for Zwift to prompt you to join the Meetup, then we will choose your workout. If you are Zwifting before the meetup starts, don't worry just choose a map and a route and get to Zwifting. Zwift will prompt you to join the meetup. DO NOT SELECT YOUR WORKOUT YET.
Once you are in the Meetup your avatar will look like it's on a smart trainer like this image below.
Now you will pick your workout! Or if you just want to free ride you don't need to do anything. You will just ride with the group.
Navigate to the Workout Menu in game by pressing E if you are on a computer or by navigating to Menu –> Workouts; then pick your workout!
Once you select your workout, go back to the main riding screen where your avatar is sitting on the trainer in place, waiting for the meetup to start.
Now you're all set! Get ready to ride with your buds and do your workout at the same time.
Extra Credit: Go download the Zoom app and pop in some headphones to your phone or computer. It is recommended to use your phone with Zoom if you can manage it; it keeps the audio separated so you can hear your friends when you ride. Otherwise you will hear the Zwift environment sound.
You can lower the environment sound in the in-game menu by going to Settings if you are using your computer for both Zwift and Zoom.
Source: https://zwiftinsider.com/zwift-meetup-group-workouts/